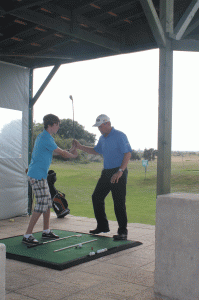 Ray Gadd is the resident coach at the Pitch and Putt Hayling. He took part in the European tour and was the professional for Hayling Golf Club for 30 years He retired some 2 years ago to focus on the Par 3 which he runs very successfully. He is a fully qualified PGA Grade 3 professional coach and also runs video analysis lessons.
There is also an All Weather covered coaching facility.
LESSONS
Can be taken on an Individual basis or there are Group lessons and Juniors only lessons. Playing lessons also can be arranged.
Private lesson for 45 mins with video analysis is £20
Private lesson for 1 hour with video analysis is £25
1 hour between 2 people is £30
Junior lesson for ½ hour is £12
Junior Group lesson for 1 hour is £6 each and there are up to 4 in the group